"To those fleeing persecution, terror & war, Canadians will welcome you, regardless of your faith. Diversity is our strength." ~ Justin Trudeau
Canada is a country that embraces everyone irrespective of gender, age, caste, color or creed. It provides a utopian environment for immigrants to study, work and settle, paving way for quality life in a tolerant society with advanced infrastructure, high human development index, and a high employment rate. At present, Canada's unemployment rate is at its lowest level since the 1970s. All these factors combine to attract myriad of immigrants to this part of the world.
The Immigration Process in Canada
The immigration process of Canada is simple and structured giving everyone an equal opportunity to come and settle in Canada. However, the interested immigration aspirants often talk about express entry only. Most of them are oblivious of the fact that other immigration programs in Canada like several Provincial Nominee Programs (PNPs) are equally good at providing multiple advantages to the immigration applicants.
Even the percentage of invitees with provincial nomination certificates is increasing as mentioned in the following graph. The graph below shows the trend line (in orange) of provincial nominees who were issued an ITA over the first two years (or 50 draws) of Express Entry.
( Source: https://www.cicnews.com/2017/04/express-entry-report-reveals-importance-provincial-nominee-programs-049096.html#gs.NOK3rUE )
Familiarization with Provincial Nomination Program (PNP)
The Provincial Nominee Programs (PNPs) as the name suggests are the immigration programs that give different provinces and territories across Canada an active role in immigrant selection, appropriate for its labor market and economy. The 5 major streams of PTs are as follows:
Skilled Workers;
Semi-Skilled Workers;
Business/Investors;
International student graduates; and
Family/community connections.
The candidate who wishes to immigrate to and settle in a specific province of Canada can apply in the respective PNP programs.
Key Advantages PNPs Offers to the Applicants
The skilled manpower filled with innovation, entrepreneurs and their families continue to gain visa under Provincial Nominee Programs of Canada. This is the easiest and quickest roadmap to migrate to Canada and settle down with family. The pivotal advantages of applying to a PNP program for Canada Immigration are as follows:
No requirement of job offer letter: Few provincial nominee programs do not even look for a job offer from Canadian employer to apply for a PR visa as a skilled It is a huge advantage for the applicants to get Canadian Visa in absence of Canadian job offer.
Permanent Residency in Canada: Once you get selected in a provincial nomination program of any province, you will receive the nomination from that province, making you eligible to apply for PR Visa to IRCC (Immigration Refugee and Citizenship Canada).
Low Language Proficiency Requirement: A few provincial nominee programs require a low level of language proficiency, i.e. CLB 4 to apply. It's a huge advantage for the people who don't have good IELTS score.
Fast Processing of application: Without getting trapped in the hassles of pool selections, many PNPs provide faster processing of applications than many other programs of immigration.
Steps to immigrate to Canada through the PNP
The following is a general overview of the Canadian immigration process for Provincial Nominee Programs:
Check for your eligibility
The initial step to applying to immigrate to Canada through PNP is to determine whether you are eligible to apply for the specific province or not. Provinces that are part of the PNP have different eligibility requirements. Moreover, you will have to keep a timely track of each province website as the requirements of provinces may change without any notice. So keep a regular check on the application process and determine whether you are eligible or not.
Initiate the application process
Before going ahead with the initiation process of application, it is important to decide where in Canada you want to live and apply through PNP. Following are few such options: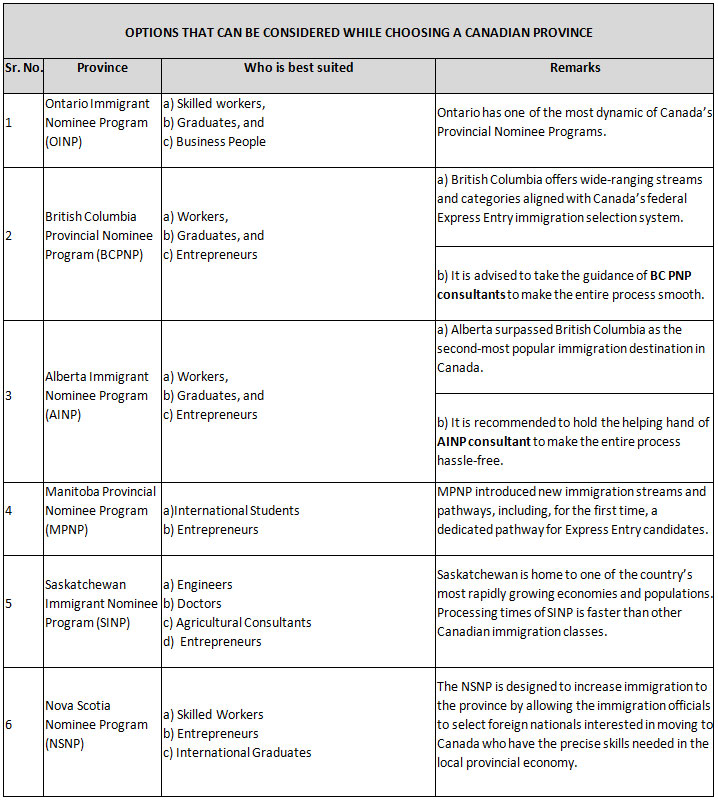 Once you have decided the province you wish to settle in, you can take any of the following two paths to initiate the PNP application process:
Apply via Express Entry- Express Entry is the route for the skilled workers to immigrate to Canada quickly. You have to register on Express Entry and make it to express entry pool. Your profile will be viewed, analyzed, and selected by different provinces of Canada. On being picked up by any of the provinces, you will be invited to get in touch with the province to be considered for the program they offer. As soon as you are invited through this route by any province, you become eligible to get an online ITA for a Permanent residency visa.
Apply to a PNP of province directly- Once you have chosen the province in Canada to settle, you can directly apply in its PNP program. Your application will be analyzed as per the selection criterion of that particular province. Based on the nomination, you can apply for the permanent residency in Canada to Immigration, Refugees and Citizenship Canada (IRCC).
Apply to Immigration, Refugees and Citizenship Canada (IRCC)
Once the province or territory nominates you, you will have to apply to Immigration, Refugees and Citizenship Canada (IRCC) for permanent residence. And its application process includes:
A medical exam;
Background check undertaken by the police.
Both the above-mentioned checkups are compulsory, no matter where you intend to settle in Canada.
Processing Times
In case you are applying through the non-express entry system, you can check the application status online and come to know how long it will take for your application to be processed.
On the other hand, if you chose express entry as a path to apply for the PNP, be aware that the government doesn't have an average processing time to display online.
The process after the approval of the application
If your application gets approved by the Canadian government, immigration officials will request you to submit your passport to include a visa in it. Apart from including a visa, a confirmation of permanent residency will be sent by them. Once you arrive in the land of Canada, you will need that confirmation along with visa.
As part of the federal government's Multi-Year Immigration Levels plan, the target of the year 2018 admissions through Canada's PNPs has increased to 55,000, an increase of 4,000 over its 2017 PNP admissions target of 51,000.
Hence, it is a great opportunity for those who wish to immigrate and settle in Canada. However, the entire process of application through provincial nomination program is quite cumbersome. So, an expert immigration lawyer like CS Immigration can help you to come up with a robust profile, thereby increasing the chances of your application to get accepted.